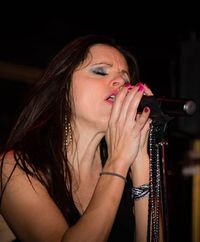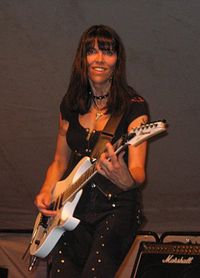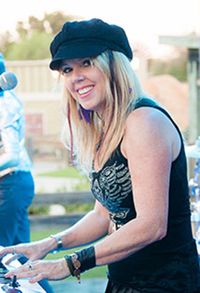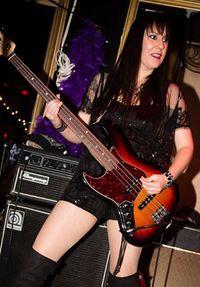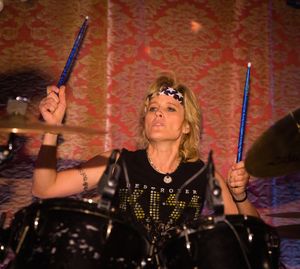 Jessica Pennington, Lead Vocals, is by nature, (and by a rockin' BFA from Carnegie Melon University) a musical theatre diva who can belt through the rafters and rattle Champagne glasses. She has played such notable roles as Sally Bowles in Cabaret and The Witch in Sondheim's Into the Woods. By day she is a voiceover artist and can be heard in such films as Sex & the City, Hotel Transylvania and Game Change - gotta keep those awesome pipes in shape!
Sylvie Lacroix, Lead Guitar, is originally from Quebec Canada, but we are glad she crossed over and made her way down to Southern Cali. Her original band D.C. Lacroix was a hit in the 80's, sparking a European tour and two album releases, "Crack of Doom," 1986, released in France by Black Dragon Records, and "Livin' By the Sword," 1988, released by Medusa. Sylvie is the "strong silent type", but don't let that fool ya! Onstage she turns into a true rockstar, shredding on the most smokin'est riffs and solos ever invented in the rock and roll generation. Oh, and she speaks French.
Julie Dolan, muliti-tasker and Keyboardist Extraordinaire, can generate any sound imaginable through her instrument. If you can hear it in the original song, you will hear it in the UCG arrangement as well. Julie began her performing career acting and dancing at a very young age, leading to a tapestry of performances on TV and live shows throughout the years. In 2004 she formed The UnderCoverGirls, and has displayed her many talents, including vocals, percussion and a mean harmonica. Julie can be seen in the cast of Rock and Roll Fantasy Camp - Season 1 on VH1 Classic and as a regular "Hooker" on the Conan O'Brien Show. 
Julie is  the voice of "Princess Leia" for Lucas Films.
Terri Ludmer, Bass Originally from Grand Rapids, Michigan, Terri planted many seeds throughout the city, preparing to grow as a musician. She started at the age of 3, singing and dancing. In her late teens she was bitten by the Rock 'n Roll bug, which launched her into writing, recording, and playing with many original and cover bands. In 2004 she uprooted herself from Michigan and began to transplant herself into the music scene in California. One of her biggest achievements in her musical career was landing her role as The UnderCoverGirls bass player.
 
Tris Beezley - Drums Among other noted bands, Tris has been a part of  "Strawberry Hill", an original hard-rock band, releasing two CDs and performing up and down the Sunset Strip, the "Blonde Brownie Blues Band" out of Orlando, FL, playing Old School and Chicago Blues, and back home in Indiana, her band "Thunder Road" banged out classic rock and country covers as well as many originals for clubs in the Lakes Area. 
Tris is a cast member on Season 2 of VH1's "Rock 'N Roll Fantasy Camp," 
Performing with the likes of Paul Stanley, Sammy Hagar, Phil Collen of Def Leppard and Marky Ramone.  She studied with Mark Hudson, Grammy Award-winning songwriter for Aerosmith, and Matt Sorem, drummer for Guns 'N Roses. She was honored to be able to record with producer Eddie Kramer at East-West Studios, and perform with Hagar at The House of Blues in L.A.